Greetings, PNW Key Clubbers,
Can you believe there are under 3 months left of the 2022-2023 service year? While this service year has certainly gone fast, we've accomplished so much. I want to take this opportunity to outline some of the accomplishments we've made as a District.
As you may know, our District Project this year is Help End Hunger, an initiative aiming to end local food insecurity throughout the Pacific Northwest. We set a goal of donating over 100,000 meals to families in need throughout the Pacific Northwest by DCON 2023. Our District Project Committee has been working incredibly hard to provide resources to members such as webinars and guides, and you all have been making the most of it! As a District, we've already donated over 99,000 meals to families in need across the Pacific Northwest, just 1,000 meals short of our goal. We are well on track to meet our goal by DCON 2023.
Additionally, we've provided over 6,000 hours of community service related to Help End Hunger. That's over 250 days of service! Together, we've been able to make a tremendous impact on our communities, and I can't wait to see what else we'll accomplish by the end of this term.
If you want to celebrate these accomplishments and many more, then be sure to register for DCON 2023 by Wednesday, February 1st! From March 31-April 2, 2023, in Seattle, WA, over one thousand Key Clubbers will gather for an eventful weekend. We'll have workshops, guest speakers, meet and greet activities, and so much more. Be sure to read on in this Biweekly Update for more information and our Registration Packet. 
With that, thank you for all of your hard work this year, and I hope to see you at DCON 2023!

Do you want to meet thousands of Key Clubbers from around the world? Do you want to explore everything Anaheim, CA, has to offer, including a day at Disneyland? Then, you should attend our International Convention (ICON), which will be from July 4-9, 2023 in Anaheim, CA. While the PNW ICON District Tour information is soon-to-be-released, the ICON Scholarship provided by Key Club International is now open. 
The ICON Scholarship gives Key Clubbers a partial subsidy for their ICON registration cost. The application will close on Friday, February 24th, at 8:59PM PST. More information can be found at the link below!

We are grateful and excited to announce that the majority of clubs have paid their dues! With this wonderful achievement, we are launching a new campaign to increase our District's membership.
As you may know, clubs are able to continue adding and paying for members after initial dues payment. To help encourage clubs to do this, we are offering a new and exciting incentive! Any dues-paid clubs that add 10 or more paid members to their roster by March 1st will be entered in a raffle for a pizza party, recognition at DCON, and front row seating during Opening and Closing Sessions!
DCON Registration and Election forms are due in under two weeks! DCON 2023 will be held in person from March 31-April 2, 2023 in Seattle, WA. For the first time in three years, Key Clubbers from all over the Pacific Northwest will meet fully in person and experience everything DCON has been known to offer. 
The theme for this year's convention is Once Upon a Service, where you'll spend the weekend learning more about Key Club, engaging in impactful service, and, of course, enjoying your time at the Governor's Ball before the clock strikes 12. Linked below is the Call to Convention Video and Webinar Recording, where you can learn more about the convention, as well as the Registration and Election packets. The registration, candidate, and award forms must be submitted by Wednesday, February 1st, so please plan accordingly. 
If you have any questions or concerns, please reach out to Convention Chair Lynnsay Pham at convention@pnwkeyclub.org with any questions or concerns. Any questions about the Elections Packet can be directed to me at governor@pnwkeyclub.org. We cannot wait to see you at DCON 2023!

The Membership Growth and Reactivation Committee (MGRC) will be holding The Key to Success Webinar on Wednesday, January 25th from 6:00 to 7:00 PM PST!
If you are a Key Club officer or membership attendance or engagement has started to decline, this webinar will provide you with great information and resources on ways to increase membership, engage and interact with your members, and target membership retention!
If you are interested in attending this webinar, please register at the link below by January 23rd at 11:59 PM PST. 
If you have any questions regarding the webinar, please email MGRC Committee Chair Hannah Kim at membership@pnwkeyclub.org.

Did your club miss the deadline to apply for the Pacific Northwest Opportunity Fund, but still wants to perform a high impact service project? Well, you're in luck!
Key Club International has opened their applications for their Youth Opportunities Fund, which is a grant for clubs to perform high impact service projects. The only requirements for the project are to have Key Club member engagement, fill a need within your community, support health, education or youth leadership development, and spend all money granted within 12 months of when the grant is awarded. The application is due on Wednesday, March 1st, 2023. You can learn more at the link below.

PNW Key Club can now be supported through Amazon Smile! Activate Amazon Smile on the Amazon mobile app, or shop through smile.amazon.com with Pacific Northwest Key Club as your selected charity, to have a portion of your eligible purchases donated to Key Club at no extra cost to you. 
Follow the instructions below to activate AmazonSmile on the mobile app.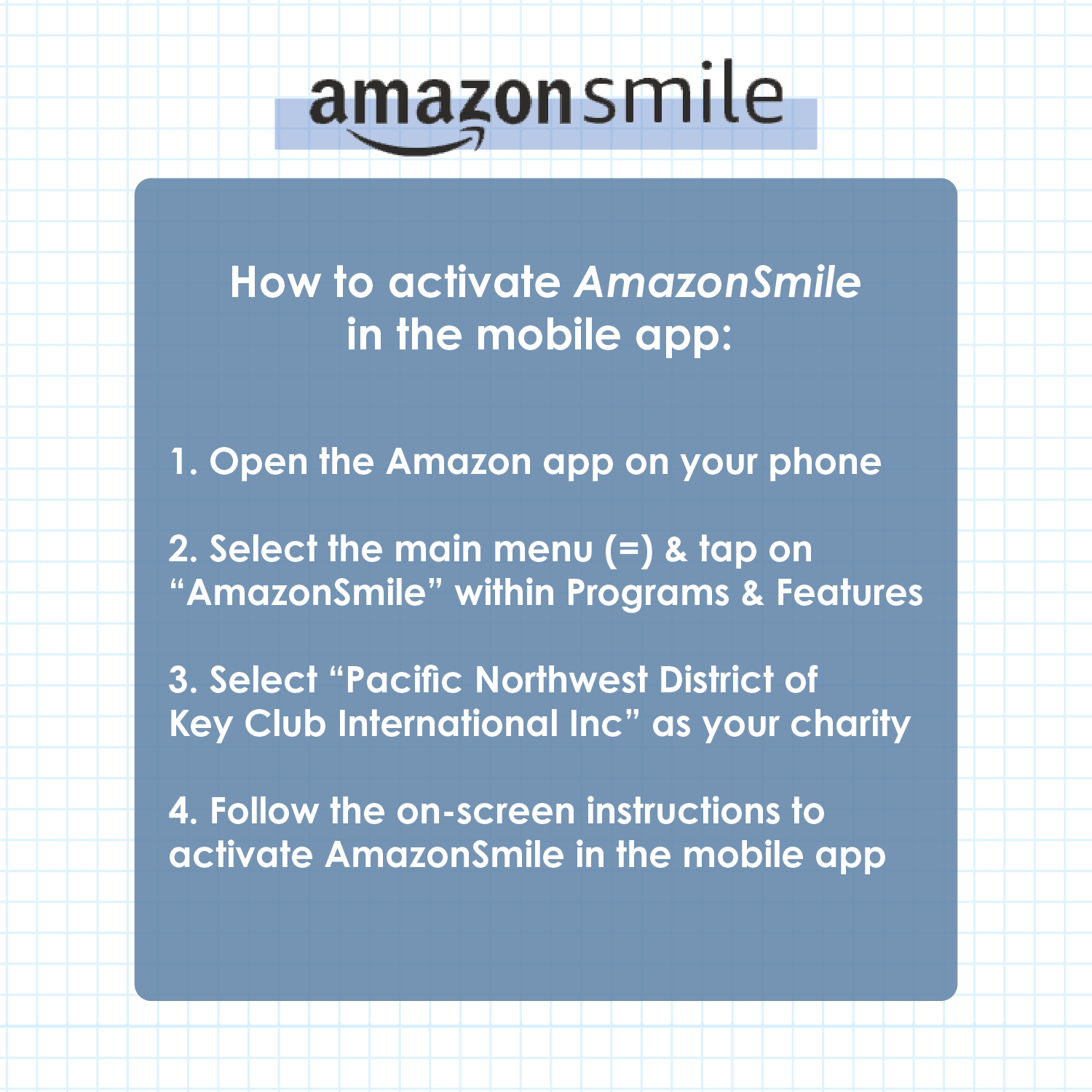 We are pleased to report that nearly all Divisions have Lieutenant Governors now, and some for the first time in many years. This is all thanks to the help of the advisors and Key Clubbers that nominated eligible students. However, we still need your help! Lieutenant Governors are vital to the health of each Key Club division, and serve as the critical connection between the club and district levels. Clubs in divisions that have no Lieutenant Governors lack a consistent source of relevant updates, resources, and leadership. 
The following divisions have Lieutenant Governor vacancies. 
Division 9

Division 22/24

Division 34

Division 42c

Division 52

Division 70

Division 74

Division 78
If you or anyone you know is from one of these divisions and is interested in serving as a Lieutenant Governor during the 2023-2024 year, please contact me at governor@pnwkeyclub.org or District Administrator Brian Egger at administrator@pnwkeyclub.org for more information. I can assure you that serving on the District Board is an incredible experience and will help you develop your leadership skills.